April 2019 - Josh Presents at ACS Orlando
Congratulations to Josh, who travelled to Orlando to talk about his work on a bio-based Terephthalic Acid synthesis from crude sulfate turpentine this month!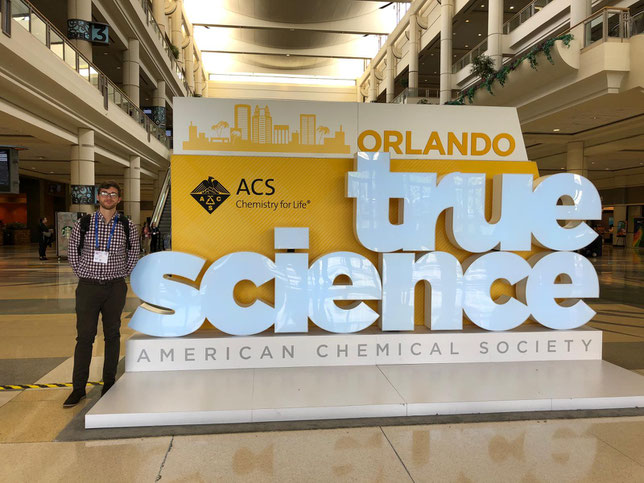 October 2018 - Bull/James Group Bowling
The Bull & James groups go bowling to welcome this years cohort of undergraduate Masters students. Congratulations Josh, supreme bowling champion!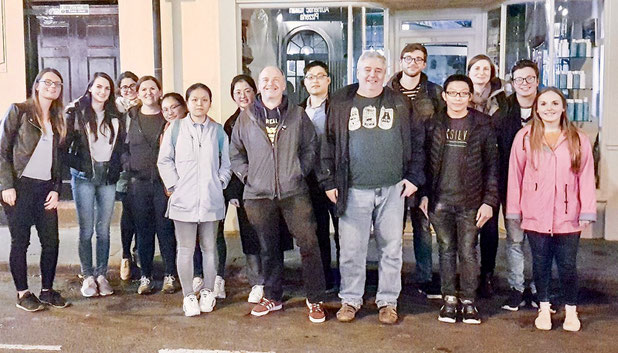 September 2018 - Welcome to Mingyu
Welcome to our newest PhD student Mingyu (Emily) Yang who will be working on enantioselective hetero Diels-Alder chemistry.

June 2018 - Maria takes the prize at the Bolland symposium
Congratulations Maria on winning the overall 2nd year poster prize at the annual University of Bath Bolland symposium.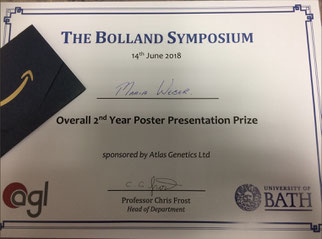 June 2018 - Congratulations Dr Bill Cunningham!
Congratulations Bill on passing his viva and good luck in his new role as a PDRA with Dr Alex Cresswell!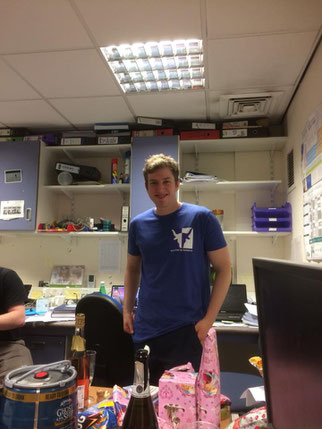 January 2018 - The Bull Group hit Thailand!
The group visit Thailand for PACCON 2018. Great beaches, great food and great chemistry! 


September 2017 - Welcome to Ben, Robin & Liliane
 Welcome to our three new PhD students Ben, Robin & Liliane! 

July 2017 - University of Liverpool John Moores
Fantastic visit to Liverpool to discuss research collaborations with Dr Andrew Leach and give a research seminar - what a fun city!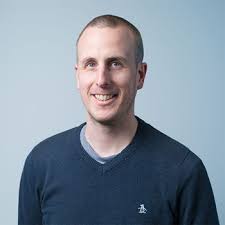 June 2017 - Welcome to Robin and Alison
Welcome to Robin Groleau and Alison Ryder who join the group from the CDT's in Catalysis and Sustainable Chemical Technology to carry out 3 month rotations on biocatalytic and catalytic projects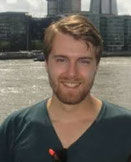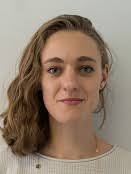 May 2017 - Steve on his travels again!
Steve travels to China to talk at CASE 2017 held at Shanghai Polytechnic University, Shanghai and visits VISTEC Research Institute (and a national park) in Thailand on the way back home.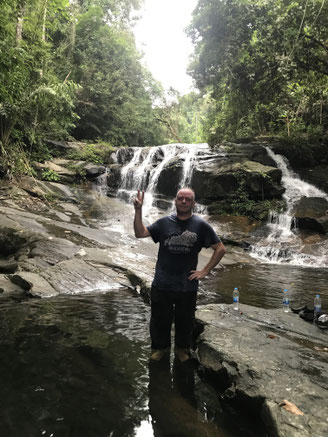 May 2017 - University of Leeds
Great trip to Leeds to visit Andy Wilson and give a research seminar to the Department - shame Steve lost his phone in the process :)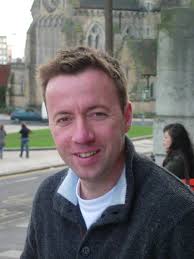 February 2017 - Welcome to Roman
Welcome to Roman Abram who joins the group from the CDT in catalysis to carry out a 3 month project rotation on polyketide synthesis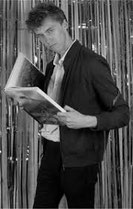 February 2017 - Congratulations Rob

Congratulations Rob on passing your Ph.D viva and for having the fortitude to sign up for one more year as a PDRA in the group. 

January 2017 - Congratulations Adam

 Congratulations Adam on winning a prize for your presentation at PACCON 2017, Bangkok, Thailand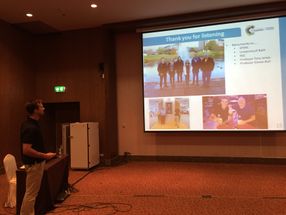 January 2017 - Bull Group Trip to Thailand

Great trip for Bull Group Boys to PACCON 2017 conference in Bangkok, Thailand - remarkably all survived the trip with some great memories - some of them even learnt to cook!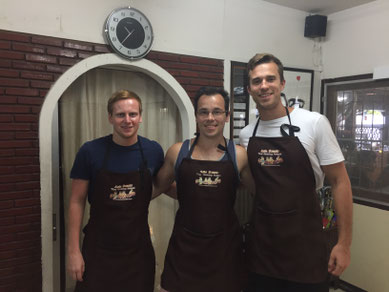 January 2017 - Congratulations Ruth

 Congratulations Ruth on passing your Ph.D viva, enjoy your travels and good luck for the future.

December 2016 - Congratulations Caroline

 Congratulations Caroline on passing your Ph.D viva, enjoy your travels and good luck for the future.

December 2016 - Trinity College, Dublin
Steve gave a talk at a 'Fun-Day' for Prof Phil Gale in recognition of his contribution to UK chemistry, where he bid him adieu as he departs down-under to head up Chemistry at the University of Sydney.
November 2016 - University of Leicester
Steve gave a research seminar at Leicester and caught up with Dr Richard Blackburn one of his alumni who currently holds a Teaching Fellowship in their Chemistry Department - Leicester not that exotic, so photo from last year's trip to Angkor Wat in  Cambodia :)
.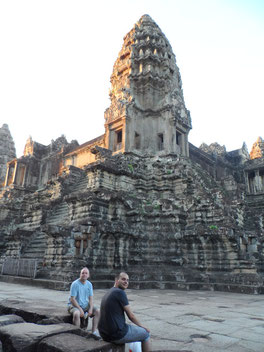 November 2016 - Well Done Luke
Congratulations Luke on passing your Ph.D viva, good luck with the future.

September 2016 - Real Madrid vs Villareal

Steve gives a research seminar at the Autonomous University of Madrid and watches Gareth Bale play for Real Madrid in the Bernebau that evening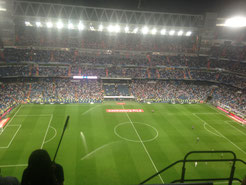 September 2016 - Welcome New PhD's
The Bull group would like to welcome the newest fully fledged group members. After completing his successful MRes project within the group Josh decided to stay on to do a Ph.D, along with Big Maria, Little Maria and Rory!
June 2016 - Welsh Bull Boys Euros 2016 Trip
Nice to see the Welsh Bull group members enjoying their Football side's success at the 2016 Euros - don't mention the cost of the tickets, or the result against Ronaldo and his countrymen....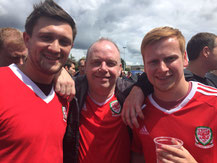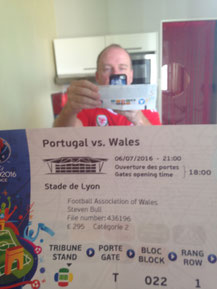 May 2016 - Well done Liam, Adam, Bill and Emma
Nice one guys on completing your second year talks.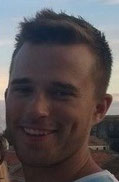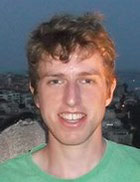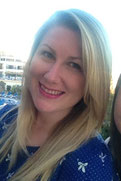 December 2015 - Pacifichem Conference, Honolulu, Hawaii
Great research talks given by Emma, Rob, Bill and Caroline at Pacifichem. We all had an awesome chemistry packed week on the beautiful island of Oahu with the added bonus of a group skydive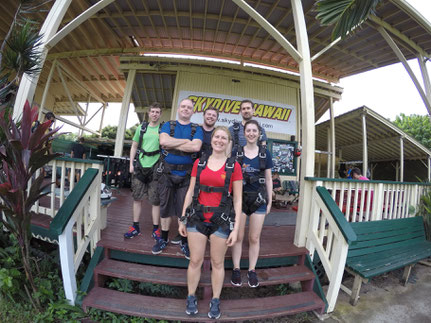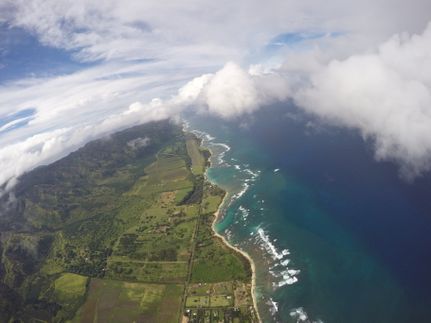 December 2015 - Road Trip from Florida to New Orleans
Fantastic trip travelling from Miami through the Glades to Gainesville, on to watch Brady and the Patriots beat the Oilers in Houston, before giving a lecture at Tulane University in New Orleans.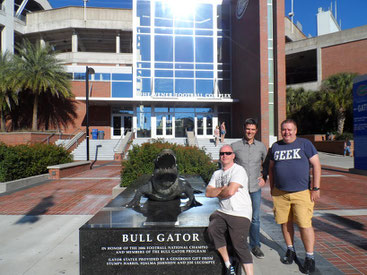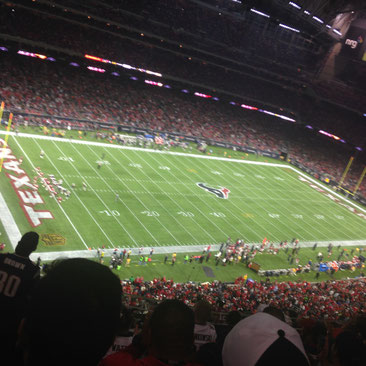 November 2015 - Congratulations Richard Blackburn
Excellent job on passing your viva, good luck with the teaching Fellow job at the University of Leicester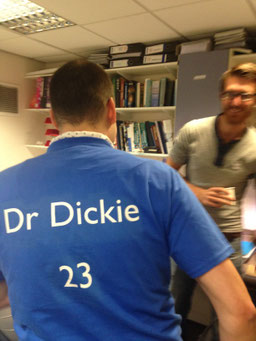 September 2015 - Congratulations Adam, Liam, Emma and Bill
Nice work guys passing your Transfer Viva's, bring on the next two years!
September 2015 - Turkey Lecture Tour
Steve has returned from speaking at 4 major Research Universities in Turkey as part of an Royal Society of Chemistry sponsored tour, stopping off in North Cyprus to visit Sim and watch Wales qualify for Euro 2016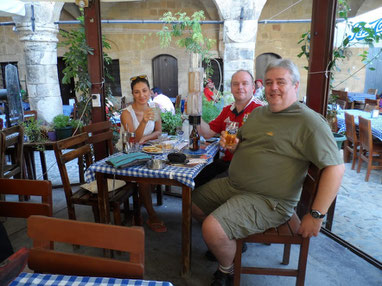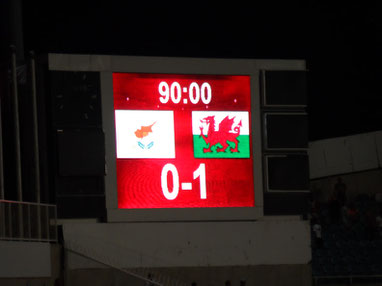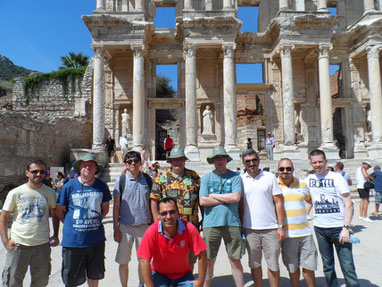 September 2015 - Congratulations Rich
Awesome job Rich on successfully becoming a fully fledged teaching fellow at Leicester University.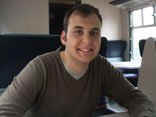 August 2015 - China and Thailand Lecture Tour 2015
Steve has spoken at various institutions within China, Cambodia and Thailand alongside his colleagues Tony James and Richard Blackburn.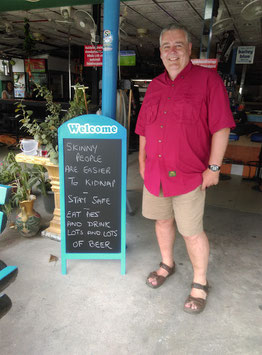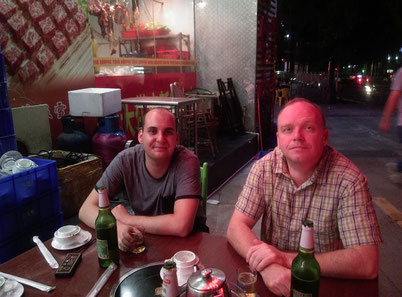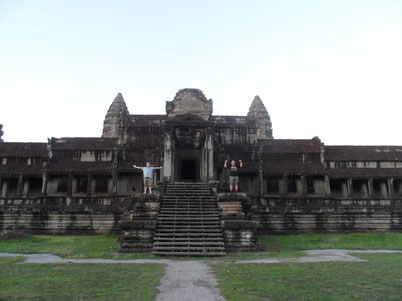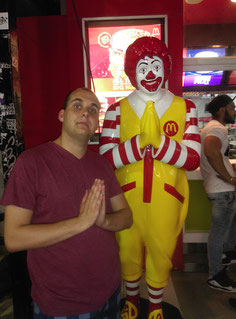 August 2015 - Good Luck Rob
Rob has gone on his 3 month placement in Chicago. He is off to work with Professor Karl A. Scheidt at Northwestern University, don't eat too many Burgers Rob!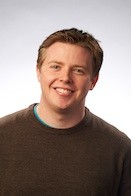 July 2015 - Congratulations MChem's and Good Luck with the Future
Excellent work Marcus, Alex, Martha and Kat on graduating
July 2015 - Nice Work Rob, Emma, Carol and Bill
After successful applications to Pacifichem 2015 all have also been awarded RSC bursarys too!
See you in December Hawaii :)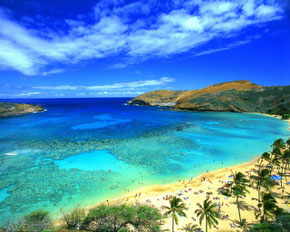 July 2015 - Congratulations Dr Tickle
Mr Dave has now been upgraded to Dr Dave after his successful viva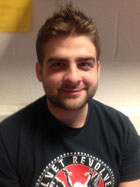 June 2015 - Farewell Santiago
Farewell and good luck with the future Santi, we shall miss your chemistry and whistling skills greatly.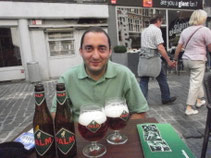 March 2015 - Group visit to Vilnius University, Lithuania
The whole group had a brilliant time in Vilnius exploring both the beautiful city and its characterful Chemistry department.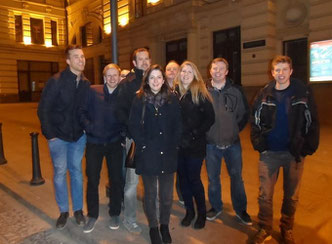 January 2015 - Well done Rob and Caroline
Both did the Bull group proud with their excellent 2nd year PhD talks.


December 2014 - Bull Christmas Party
Many happy returns to all Bull group members, certainly a most memorable Christmas after party at the Castle pub, Bradford-on-avon.
December 2014 - Congratulations Sarah
Brilliant work Sarah on passing your PhD viva. We wish you all the best with your new job at the University of York.

December 2014 - Congratulations Rich Blackburn
Excellent work Rich on becoming a fully fledged member of staff. He is now known as Mr Richard "Teaching Fellow" Blackburn.

November 2014 - Catalysis and Sensing for out Environment (CASE) network meeting
Steve has attended the 6th CASE network meeting hosted at Xiamen University, China alongside his fellow Bath colleagues Tony James, Toby Jenkins, Chris Frost and Simon Lewis.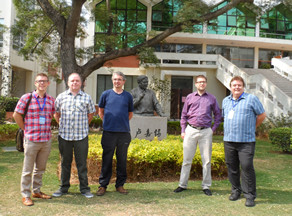 October 2014 - A warm welcome to four new MChem students
We would like to give a warm welcome to Alex Orton, Marcus Torr, Martha Kohlhaas and Kat Filer to the Bull group lab 
September 2014 - Welcome new Ph.D students 
Welcome to Adam and Liam who have recently completed their undergraduate studies here at the University of Bath and our about to start their DTA funded Ph.D projects. Welcome back to Bill and Emma who now join our group 'proper' now they have completed their CSCT-CDT MRes years. To find out more about them please check out the group pages.
August 2014 - ISACS14 "Challenges in Organic Chemistry"
Congratulations to Rich for receiving the RSC International Travel Grant that enabled him to present his work at ISACS14 "Challenges in Organic Chemistry" at the Shanghai Institute of Organic Chemistry.

August 2014 - 5th EuCheMS Conference Istanbul
Congratulations to Rich and Rob for giving excellent talks and to Marc, Caroline and Bill for presenting posters at the 5th EuCheMS conference. An extra well done for all five receiving RSC bursary awards.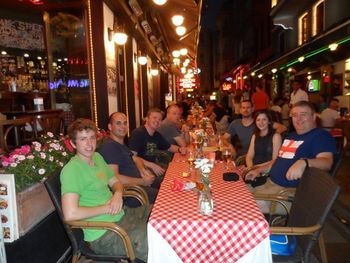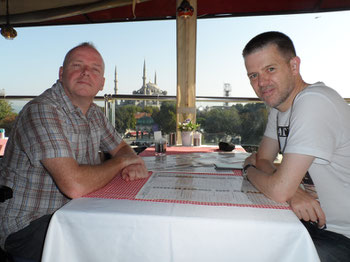 July 2014 - Bath CSCT Summer showcase
Well done Marc and Sarah for giving a superb talks on the terpenes project and Lewis acid activation of pyridines. Great posters from multiple Bull group CDT members Rob, Caroline, Emma and Bill.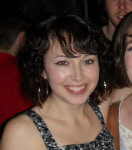 A Massive well done to Dr Lucy Peacock, who celebrated her 'viva-day' with Cider and Pie in the Raven pub.
June 2014 - New PDRA
Welcome to Santi who joins straight from his previous PDRA position at the University Jaume I of Castellón.
May 2014 - Postgraduate Symposium 2014
Congratulations to Ruth for giving a prize-winning talk, and Caroline for her prize-winning poster at the chemistry department's postgraduate symposium. Well done also to Luke, Richard and Sarah who (in addition to Ruth) also gave excellent talks on their Ph.Ds, and to Rob for an outstanding poster on his first year's work.
May 2014 - MRes Hand-in
Big shout out to Bill for completing his first MRes project here in the Bull group and good luck to him for his next project up in the Chemical Engineering department.
April/May 2014 - RSC Carbohydrate Meeting 2014
Well done to Steve, Tony James and the group for helping out at this spring's meeting of the RSC Carbohydrates group here at the University of Bath. A mention also to Richard who gave a 10 minute flash presentation on his "synthesis of isocyanide derived natural products and their antibacterial activity".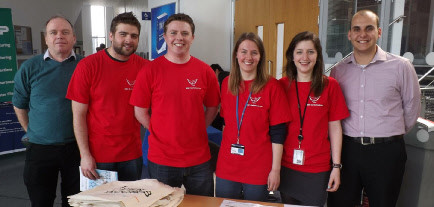 April 2014 - SCI Talks
Congratulations to Sarah who was accepted to give a talk at UCL as part of the '25th Regional Postgraduate Symposia on Novel Organic Chemistry - South'
April 2014 - Bristol Synthesis
The group attended another excellent program of talks at this years "Bristol Synthesis Meeting", before heading into Bristol for few beers.
April 2014 - Farewell MChems
Congratulations to Adam, Alex and Alicia for handing in their dissertations and giving their final year talks!! After three successful projects they more than earned their beers in Graze, followed by food in the Bull Group favourite - Salathai
February 2014 - Cocktails Night
We descended once more upon the Panahar curry house, before retiring to Richard's to wash down our dinner with plenty of Dave's beautifully shaken cocktails.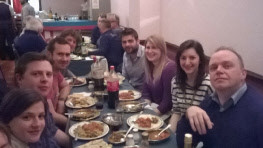 January 2014 - Happy Burns Night
Big thank you to Caroline for cooking us "haggis, tatties and neaps", very tasty indeed.